Thursday, June 27th, 2013
Official Website Launch Giveaway!
In celebration of my website launch, I'm giving away two prize packs, each of which include the following:
1- An Autographed ADVANCED READING COPY (ARC) of Never Desire a Duke (Full confession: there are some boo boos in it. The first one, on page 1! FORGIVE ME! I pray that the winners will read this early release copy in good humor, and with forgiveness in their hearts.)
2- A glossy, full-colored BOOKMARK, fully transferable from one book to another. Or you can use it to make sure your daily correspondences are ruler-straight!
3-A goose quill. No, I jest! And thank goodness. Writing with quill and ink are a dreadfully messy undertaking. What we have here instead is a magnificent modern invention known as a clicky, ball-point INK PEN!
4-Highly Collectible, Limited Edition QUOTE PIN! This one, featuring a phrase uttered (very forcefully!) by the hero, the Duke of Claxton, somewhere between the pages of this book. In coming months, look for a quote pen featuring select dialogue spoken by his duchess, Sophia. There will be additional quote pins issued with each book release.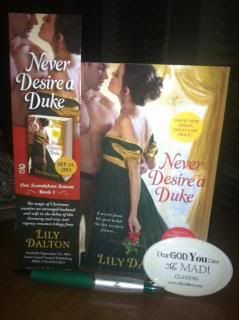 What do you have to do to win, you ask? Simply e-mail me via the contact link here on my website, and tell me the names of the two members of the On-Four-Paws Club, whose portraits are plainly displayed here on my website. The contest will run until midnight on July 5th.
PLEASE BE ASSURED, you will not be added to my newsletter list by making this submission. The only way to receive my newsletter, which will be distributed no more than four times a year, and will include special giveaways and excerpts, is to submit your e-mail to the newsletter signup form. After the two  winners names are drawn, all entry e-mails will be deleted.